Introducing: New Manager Care Packages
Wishing you could congratulate the new manager in your life while also giving them some more support in their new role? Meet my New Manager Care Package.
In my work supporting leaders and managers around the world for years, I've learned that real tools—deployed in the first 30 days—enormously help managers as they navigate their new roles. So I partnered with Small Packages, a curated care package company, to create a care package for new managers that offers serious support and encouragement: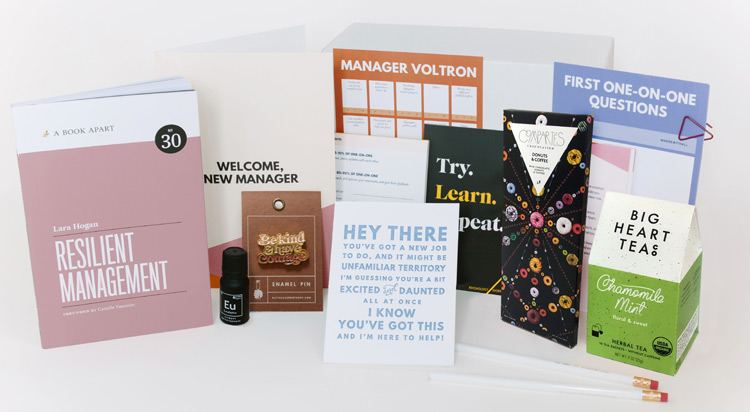 I've put together this package to celebrate and honor the achievement of becoming a manager, while still recognizing it can be really tough to jump into this new role. It's perfect for:
Self-care, New Manager. Tea, cookies, aromatherapy and the best new book on management? How about all of the above, but in a bath.
That person you've just hired/moved into management. (Remember how hard it was? They need you now.)
Your partner/friend/neighbor that could use some support, with a bit of celebration, as they start down the new manager path.
I've got you covered, Manager, with:
A copy of Resilient Management, my new book for managers and emerging leaders
The New Manager Toolkit——a plan for the first 30 days. Includes frameworks for 1:1s, goal tracking, growing one's network of support, and more. (I've developed nearly all of these tools myself, and have been using them in my workshops for a year; I can't wait for y'all to have them in your hands!)
An Emily McDowell Merit Badge, because management doesn't always feel easy
Eucalyptus aromatherapy oil to calm and relax
Uplifting tea to ground you, and keep you going
And a letterpress card to send along some management words of wisdom. We'll hand-write your note to the recipient inside it!
Send one to a new manager now!
What people are saying
"It's vital to a new manager's success that they know - and feel - that their boss has their back. As VPE of a distributed team, sending physical books and gifts that say "you've got this" (and also help them to get it!) is key to my new manager on-boarding."
—Katie Womersley, VP of Engineering at Buffer
"Moving from an Individual Contributor role to a manager role can be a scary and lonely career switch. A curated care package with practical and trusted tools, techniques and education material for new managers is the best gift you can make to intentionally support them."
—Nassim Kammah, Senior Engineering Manager at Elastic
"Support comes in all shapes, sizes, and love languages and this care package hits so many of them! I can't wait to order this for myself on a rainy day."
—Neha Batra, Engineering Manager at GitHub