Resources for navigating complex leadership work
For a decade now, I've been writing and sharing free tools, templates, and how-tos for managers. My hope is, of course, that these have all been useful for you. But, my organization of it all finally hit a breaking point, so I've created a new, one stop shop for the most-searched-for topics. :)
If you've ever thought to yourself, "Where can I find a bunch of stuff about writing performance reviews?" or "I have a new cross-functional peer; how do I set up this relationship for success?"—take a look at my new resource hubs.
Each resource hub is home to one topic (hiring, team dynamics, etc.), where you can go as deep as you need to. By collecting all resources into one place, it will hopefully also make it really easy to bookmark and share these (rather than sharing or saving single articles!).
See all of my resources on:
For each topic area, I've highlighted three resources that will help get you up and running immediately: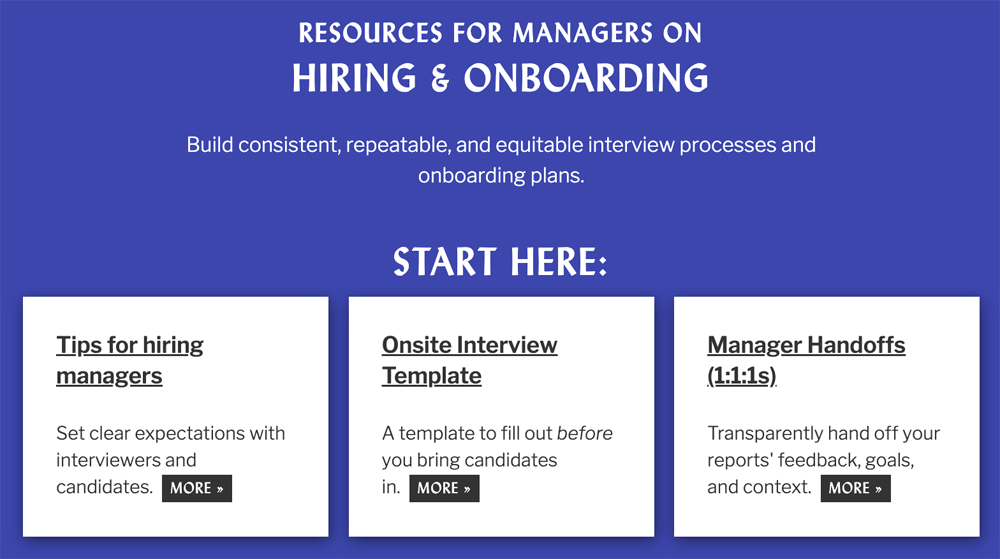 I will continue to update these, adding new resources as I develop them, so think of these as dynamic libraries.
If there's ever a management topic that you don't see on the list (but you could really use some help with), please reach out by replying to this email! My goal is to make sure managers around the globe are supported as they lead their teams. I'm here to help :)
—Lara
P.S. If you've been looking for a succinct overview of resources to share with a brand new manager, resources-for-new-managers.com is great to bookmark. It's like a "quick start" manual for a new manager.