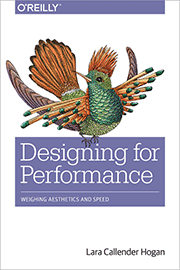 I'm the author of Designing for Performance. This practical book helps you approach a new project with page speed in mind, and shows you know how to test and benchmark which design choices are most important. I cover:
The basics of page speed: requests and how browsers render content
Optimizing images, HTML and CSS for performance
Implementing responsive web design with an eye on performance
Tools for measuring and iterating on performance
If you have Adobe Photoshop experience and basic HTML and CSS skills, this book will help you learn how to design for performance. The book is available for early release here, as is pre-order of the print book.