The importance of donuts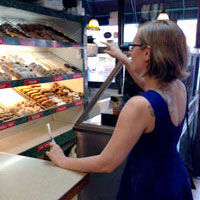 Eating a donut is an integral part of my career celebration process.
Years ago, I found that whenever something awesome happened in my career – maybe I got published, or promoted, or launched a project – I wouldn't take the time to celebrate the achievement. I'm an achiever by nature, the kind who feels like every day starts at zero. Not deliberately marking these moments left me feeling like I wasn't actually accomplishing anything. "Oh cool, that A List Apart article went up," I would think, then move on with my day.
Once I realized that this was happening, I decided to be deliberate about marking achievements by eating one donut. Well, sometimes more than one, if it's a really big deal. The act of donut-eating has actually helped me feel like I'm accomplishing my career goals. As I started to share this idea with more people, I found that it resonated with others, especially young career-driven women who are routinely achieving goals and furthering their career but don't take the time to note their own success.
I decided to start celebrating in a public way so that more people may be inspired to find their own ways of marking their career achievements. These are those donuts.
12/23/2017, for my first consulting contract, and my first paid coaching client.
6/16/2017, for giving my Last Lecture at Etsy.
5/26/2017, for testifying in court.
5/26/2017, for being offered the VP Engineering role at Kickstarter.
1/19/2017, for being interviewed onstage at Postlight's meetup.
10/25/2016, for the launch of my book Demystifying Public Speaking.
10/16/2016, for being listed as one of LinkedIn's top professionals 35 and under.
09/01/2016, for being promoted to Engineering Director.
08/22/2016, for sending in my final book draft.
07/23/2016, my FAVORITE tres leches cake, for speaking at An Event Apart DC.
04/06/2016, for speaking at An Event Apart Seattle.
03/11/2016, for being interviewed in Popular Mechanics. Our first device lab even makes an appearance in the article.
2/16/2016, for being invited to speak (and subsequently speaking) at the Girl Scouts of Greater New York to a group of girls interested in tech.
1/29/2016, for speaking at Hillary Clinton's HQ to her technology team about web performance.
1/21/2016, for more developments in the same secret thing.
1/5/2015, for a secret thing.
12/22/2015, for realizing that I'd been referenced three times—enough to make it into the Index!—in Karen McGrane's book Going Responsive.
11/03/2015, for giving a talk at An Event Apart in San Francisco.
10/14/2015, for giving a surprise talk at Velocity NY.
10/07/2015, for giving a talk at a bucket-list conference, An Event Apart (in Austin)!
09/30/2015, for signing a new book contract with partner-in-crime Destiny Montague. Getting a little sick of donuts, so substituting a cupcake a la beerops.
09/10/2015, for finding my book in THREE different bookstores in the Pacific Northwest, including my bucket list location: Ada's Books!
08/03/2015, for giving a talk at Rent the Runway, and releasing my book online for free!
07/09/2015, for giving a talk at Atavist.
06/24/2015, for being invited to speak at An Event Apart, which I've always dreamed of doing.
06/12/2015, for receiving my copy of Brave New Girls, an anthology of YA sci-fi in which all stories have female protagonists. I wrote the foreword!
05/15/2015, for speaking at the New York Times about Designing for Performance. Special thanks to Adam Shott for providing the donut.
04/19/2015, for the premiere of CODE: Debugging the Gender Gap, in which I'm interviewed.
04/18/2015, for giving my Designing for Performance talk at Generate Conf.
3/20/2015, for getting a raise.
02/13/2015, for accepting the Culture Creator award on behalf of Etsy at the Women 2.0 Awards Program.
01/23/2015, for presenting then releasing the slides from my Product + Perf internal talk. Lauren was celebrating buying a house.
12/16/2014, so many donuts at my book release party. I feel so honored to be surrounded by many loved ones.
12/15/2014, for the book's OFFICIAL release day. Books are being shipped!
12/7/2014, doing the donut tasting for the book release party.
12/6/2014, for the book moving out of Early Release and into being officially-official.
12/1/2014, for receiving affirmation at work.
11/21/2014, for doing a book signing of the early release at Velocity EU.
11/19/2014, for giving our Building a Device Lab tutorial for the last time.
11/18/2014, for sending the book to production.
11/16/2014, for speaking about myself for the first time; shared my career journey at the Girl Develop It Leadership Summit.
11/07/2014, was asked to review Responsible Responsive Design by Scott Jehl, and am quoted in its press.
10/17/2014, was listed as one of 35 Amazing Women In Tech To Follow On Twitter by Skillcrush.
10/16/2014, received the forewords for the book (from Steve Souders and Randy Hunt!!), finished reviewing the 2500 copy edits, and received the color cover.
10/10/2014, discovered that the Amazon product page for Designing for Performance is up!
09/26/2014, for sending the book to production. Next will be proofreading, indexing, and printing.
09/19/2014, a different kind of donut (Shake Shack's Doughnut Plant milkshake) for a different kind of career celebration. I blogged about and updated my name everywhere professionally.
09/18/2014, was gifted donuts for a successful week: gave a 90-minute tutorial and moderated a panel at Velocity NY, and was promoted to Senior Engineering Manager at Etsy.
08/14/2014, for completing the first draft of the book. Now it's time for the reviewers to take a look.
08/12/2014, for writing 90% of the total page count of the book. Home stretch now.
08/08/2014, for receiving my first early release book sales check from O'Reilly. Will be donating proceeds to teachers who are working on getting girls into STEM through DonorsChoose.org.
07/30/2014, for giving my "Mobile Web at Etsy" talk at the Breaking Development Conference. Huge thanks to Jason Grigsby for the donut.
07/17/2014, for finishing the first draft of another chapter of the book. Only two chapters left to write. I'm at 80% of the total page count written done, too.
06/28/2014, for doing my first ever book signing. I signed a printed version of the first three unedited chapters of my book for 25 attendees at Velocity.
06/26/2014, for presenting Mobile web is not (just) a technical challenge, a keynote at Velocity Santa Clara. Bucket-list.
06/25/2014, for presenting Performance Culture with Paul Lewis at Google I/O. Paul Irish was kind enough to send them in my ride to the conference!
06/24/2014, for participating in a panel with some industry heroes on mobile performance at Velocity. Was incredibly flattering to be invited, and it was a total blast.
06/24/2014, for presenting Building a Device Lab (90-minute tutorial) with Destiny Montague at Velocity. My first tutorial, and first official co-presentation.
06/20/2014, for overcoming some major roadblocks to doing an upcoming presentation, and being so thankful for those who support me at Etsy.
05/29/2014, for finishing the first draft of first four chapters from Designing for Performance.
05/16/2014, Google I/O announced its lineup, including my talk with Paul Lewis on creating a culture of performance.
04/27/2014, invited to speak at Google I/O by Paul Irish, one of my web dev heroes; I'm so flattered that the Google folks know my work.
04/26/2014, closest thing I could find to a jelly donut in the U.K. to celebrate giving my Mobile Web at Etsy talk at IndustryConf.
04/24/2014, three days after the cover was released and a day after the book was made available for early release (first three chapters) and people started buying it.
04/18/2014, surprised to find out that O'Reilly will make a cover and put the book out for early release, and also started sending it to technical reviewers.
03/21/2014, signed book deal with O'Reilly to write Designing for Performance.
03/20/2014, keynotes for Velocity are officially announced publicly, including my Mobile Web at Etsy talk.
03/14/2014, gave Designing for Performance talk at Fluent.
02/26/2014, invited to do Velocity Santa Clara keynote (the #1 item on my bucket list).
02/22/2014, half birthday and celebrating giving a talk (Designing for Performance) at the NY WebPerf Meetup.
09/27/2013, Not pictured: donut at O'Hare on the way home from giving the Mobile Web at Etsy talk at 200OK. Was traveling with my mom, and she got to the gate on time while I stopped at Dunkin Donuts to buy a celebratory donut. Still made it to the plane in time for boarding.